26. February 2020
FUBIC provides an ideal infrastructure for start-ups, spin-offs and established companies
Interview with project manager Jörg Israel about the new innovation campus in a scientific environment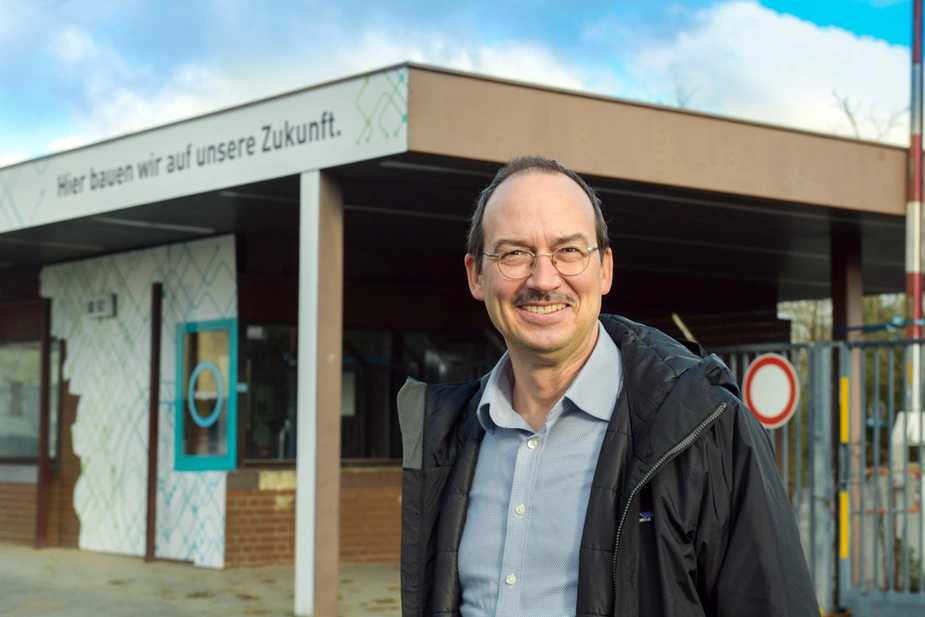 He pulls all the strings: Jörg Israel in front of the FUBIC information pavilion © WISTA Management GmbH
Up to 80 start-ups will move into the former US military hospital on Fabeckstrasse in Berlin-Dahlem by 2022. The hospital, which was built by the Allies in the 1970s, will be refurbished for this purpose. Built and operated by private investors, six new buildings are being created around the existing main building. Sixty percent of the operating space will be dedicated to founding new companies, says Jörg Israel, WISTA Management's project head for FUBIC.
What is FUBIC?
Jörg Israel: FUBIC is short for 'Business and Innovation Center next to Freie Universität Berlin Campus'. It's an acronym. We are creating a campus for technology-focused start-ups and young companies from the fields of life sciences, health, and computer science on a 50,000-hectare area in close vicinity to Free University Berlin (FU).
Why Dahlem?
The FU and its 35,000 students is one of the universities in Germany with the highest level of business founding activity. It was one of the driving forces behind FUBIC. The high concentration of well-connected research projects and the diverse ways FU is cooperating with private businesses as well as the many research facilities located in the area make it an ideal place for start-ups and university spin-offs. Moreover, the Zehlendorf district, of which Dahlem is a part, does not offer much in terms of office space and absolutely no lab space. For this reason, the district administration was eager to facilitate creating an innovation campus.
What does FUBIC have to offer?
FUBIC will provide start-ups with ideal conditions to pursue their business projects. We are creating modern workspaces for knowledge-based industries in a green neighbourhood that is close to science and research facilities. In addition to FU, the area is home to several non-university facilities like Max Planck Institute, BAM Federal Institute for Materials Research and Testing, and Zuse Institute Berlin (ZIB). We are creating an infrastructure for founders to quickly launch their projects with great technical equipment and at an affordable price.
What will FUBIC look like?
It will be six-storey building equipped with everything a company could ask for. This will include office space, physical and chemical labs, and co-working spaces, where individuals or entire company departments can rent the space they need. We want them to be as flexible as possible. Seeing as we are constructing one part of FUBIC – the sixth floor – without using subsidies, there will be no limits in terms of company age or size. This means FUBIC can also offer space to more mature companies.
Technology areas as well as conference and meeting rooms will be on the ground floor. The first floor will house a cafeteria with a terrace, which can also be used by the citizens living nearby. There will be a reception area as a contact point for all administrative matters and a liaison to address the needs of visitors and new tenants. Of course, there will also be server rooms, storage rooms, and 160 parking spaces in an underground parking lot. On-street parking will add another 120 parking spaces. Every third parking space will be equipped with a charging station. Tenants and visitors can mingle on the rooftop terrace.
FUBIC will be the centrepiece of an entire campus. What will that look like?
There will be six office and lab buildings by private investors clustered around the innovation centre aimed at attracting more established innovative companies. Founders leaving the centre after a six to eight-year period can also consider moving there. We are expecting many local synergies due to the vicinity of science, start-ups, and established companies. It is designed for companies that seek to benefit from the scientific environment.
The gross floor area on the entire campus is approximately 66,000 square metres divided between the FUBIC with about 30,000 square metres and the six other buildings with 3,000 to 6,500 square metres each. The area is very green not least because we will preserve the many trees on the former hospital premises to a very large extent. The whole area will have the character of a park. The campus is flanked by a promenade that is open to everyone wanting to take a stroll.
How many new jobs are you expecting to create?
We are expecting to create 1,000 new jobs in the area.
What is the current construction status of FUBIC?
Some parts of the former military hospital and a few other older buildings are currently being demolished. The clinic's central building will be gutted, and two floors added. Completion is scheduled for the end of 2022.

Interview by Rico Bigelmann for Potenzial – The WISTA Magazine
Innovationszentrum FUBIC
Grundstücksfläche: 50.700 m²
Hauptnutzfläche: 11.000 m²
Adresse: Fabeckstraße 62, 14195 Berlin
Betreiber: WISTA Management GmbH
Fertigstellung: Ende 2022
Projektleiter: Jörg Israel
Telefon: +49 30 6392-2216
E-Mail: israel(at)wista.de
suedwest.wista.de