28. February 2022
Digital, diverse, and integrated
Diversity in two exciting digital tools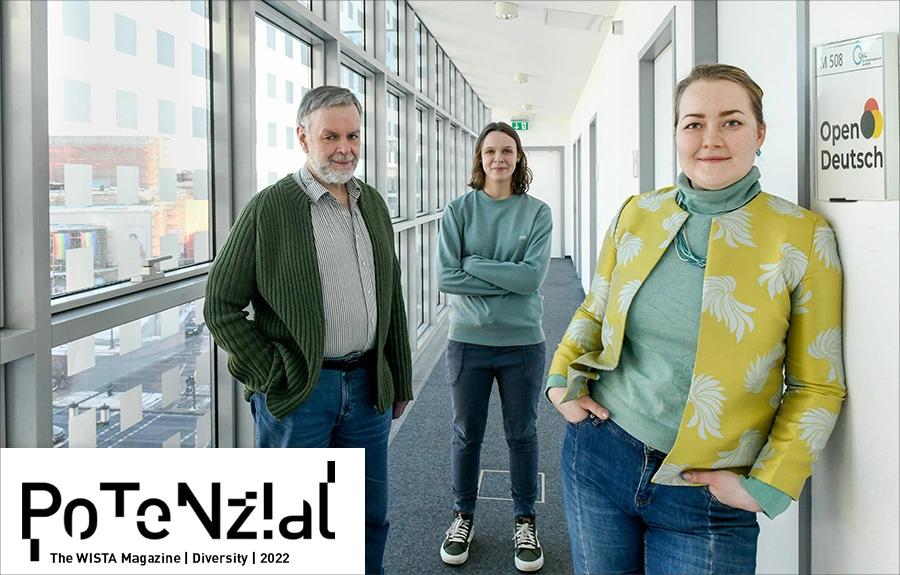 Olga Aktas, Aaliyah Sarauer, and Hans-Hermann Bode (from left to right) make people fit for living in Germany © WISTA Management GmbH
Diversity in two exciting digital tools: Open Deutsch, based at the Charlottenburg Innovation Centre (CHIC), combines learning German with integration. Inclusify is also a digital tool. Developed by the Federal Institute for Materials Research and Testing (BAM), it is an application for raising diversity awareness.
Olga Aktas has three university degrees: A PR degree from Russia; communication, media studies, and German as a foreign language from Germany. Aktas, who has been living here for nine years, tells her story: "When I came her first, I didn't know who to turn to and how to apply for a tax ID number and health insurance. Officialese German is really hard." She started thinking about how to solve this problem and founded Open German in early 2020. The digital guidelines are now available online.
It all started with OER, a collection of "open educational resources." For these, Olga Aktas' team received the "Berliner Startup Stipendium," a start-up grant. Their goal: Making education free and providing German teachers abroad with free-of-charge access to materials on learning German. Digital access, of course!
The customers of Open Deutsch come predominantly from the B2B sector: German companies that are looking for talent from inside and outside of Germany but with an immigration background. Language schools find these international high-skilled workers and get the software for teaching from Open Deutsch. Education quality is safeguarded by using the software. This is especially important outside of Germany because the teachers there are often non-native speakers.
On the one hand, Open Deutsch acts as a broker. On the other hand, it helps make people fluent in German and to integrate. They have now also published comprehensive guidelines about living in Germany. Click on the "Look for an apartment" section, for example, and you get the most important vocabulary for renting a flat and, additionally, links to search portals and the relevant authorities. Moreover, they provide all the essential forms for registering an apartment in German and English.
"It's perfect for HR staff in companies who want to recruit skilled workers from abroad but may not have the knowledge or the resources to take care of their integration," explains the communication scientist.
In addition to Olga Aktas, four people currently work on her team. Hand-Hermann Bode is her co-founder. "Young, old, straight, gay, with family and without. We're truly diverse," says Aktas, chuckling. Now that her product has been developed and tested with partners in Berlin and abroad, the focus is on marketing and education.

"Dear colleagues"—or wait, is that how you say it nowadays? Should I use the female form, too? What about the gender asterisk? How do I go about other diversity-sensitive words? This is an interdisciplinary issue with a very dynamic development.
Guidelines on gender-sensitive language give recommendations on best practices. However, in practice, digital tools are useful because they provide users with concrete formulation suggestions. Another digital tool has now been developed at the Federal Institute for Materials Research and Testing (BAM), generating different formulation suggestions from a range of existing guidelines and glossaries on gender-sensitive language. Julia Sommer, the staff development officer, pulled the strings together. "Our 'Inclusify' application works like a translating website."
Type a sentence into the input field and "Inclusify" automatically suggests changes, much like spell-checking software. "To make people more aware of the underlying diversity issues, every suggestion comes with a brief summary of why a certain term is not diversity-sensitive," adds Sommer.
"Inclusify" was created as part of a collaboration with DigitalServices4Germany, a government-run software development unit. Together with six other cooperation partners from BAM, a development team of four developed a functioning prototype. It started off with gender-sensitive language. However, through the process of agile software development, it was clear that the prototype would be expanded to cover additional dimensions of diversity.

The software is deployed as open-source freeware. Both the tool and the source code can be accessed and edited without charge. This enables public institutions, associations, schools, and research institutions to get involved and to continue developing it.
Jördis Götz for POTENZIAL
Potenzial – The WISTA Magazine. Edition: Diversity / March 2022